Discover Ras Al Khaimah, a nature driven destination of sprawling deserts, beaches and stunning mountain landscapes
Ras Al Khaimah is renowned for its outstanding nature, leisure, adventure and authentic offerings. With an extraordinary history dating back over seven millennia, the northernmost Emirate in the UAE has become one of the most sought after destinations in the Middle East.
Included in Time magazine's World's Greatest Places of 2022 and CNN Travel's best destinations to visit in 2023, the northernmost Emirate in the UAE offers an experience of a lifetime where travellers can feel its beating heart across a range of landscapes from the sea and beach, desert and mountain range.
Outdoor enthusiasts can go hiking, rock climbing, kayaking, and even take on the world's longest zipline. There is also 64km of stunning coastline, perfect for swimming, snorkelling, or simply relaxing on the white sandy beach. Additionally, visitors can delve into the region's history and culture by exploring its forts, museums, and the much-loved Suwaidi Pearl Farm, or discover the Emirate's diverse range of shopping and dining options. Located a few short hours by flight from various key European and Asian hubs, the Emirate is also easily accessible and served by four international airports across the UAE, including Dubai International Airport - just a 45-minute drive away - and Ras Al Khaimah International Airport. Additionally, there is no hard border crossing from Ras Al Khaimah and its neighbours, including Dubai, so people can travel freely between the Emirates.
From relaxed luxury, knee-trembling adrenaline adventures or cultural experiences that transport you back in time, Ras Al Khaimah has something for everyone to discover.
Arts and Culture
With a rich history dating back 7,000 years to the Bronze Age, Ras Al Khaimah is dotted with historical sites including ruins and forts. Of these, four locations – Julfar, Shimal, Al Jazeera Al Hamra and Dhayah – were recognised by the United Nations Educational, Scientific and Cultural Organization (UNESCO) on its tentative list of Global Heritage Sites. Meanwhile, a trip to Suwaidi Pearls, the only pearl farm in the UAE, provides guests a glimpse into the Emirate's pearling industry through immersive experiences such as pearl diving and oyster opening. Guests can also take a trip back in time at the National Museum of Ras Al Khaimah, discover what life was like in the Emirate a thousand of years ago through guided tours of tribal villages or visit a date farm to learn about the cultivation and harvesting process, and sample some of Ras Al Khaimah's finest dates.
Gastronomy
The dining scene in Ras Al Khaimah offers a diverse range of options for foodies and tourists alike. The Emirate is known for its traditional Arabic cuisine. However, it also has a thriving international dining scene with restaurants offering cuisines from around the world, from China to Italy and everywhere in between. Additionally, Ras Al Khaimah is home to several luxury hotels and resorts that boast high-end restaurants with top chefs and mouth-watering menus.
Those looking for something a bit different can make their way to the top of the UAE's highest peak, Jebel Jais - one of Ras Al Khaimah's most beloved attractions - and enjoy a delicious meal at 1484 Puro, the highest restaurant in the UAE. With a menu bursting with vibrant dishes that showcase the local ingredients, guests can also enjoy views of the valleys and peaks of the majestic Hajar Mountains from the restaurant's expansive terrace. Meanwhile, visitors staying at the UAE's highest campsite, Camp 1770, also on Jebel Jais, have the opportunity to experience Emirati cooking from the local mountain tribes.
Adventure and Entertainment
Known as the adventure capital of the Middle East, Ras Al Khaimah is a popular destination for adventure and entertainment enthusiasts, offering a wide range of thrilling activities and experiences that cater to all ages and preferences. From thrilling outdoor adventures to family-friendly attractions, there's so much to explore.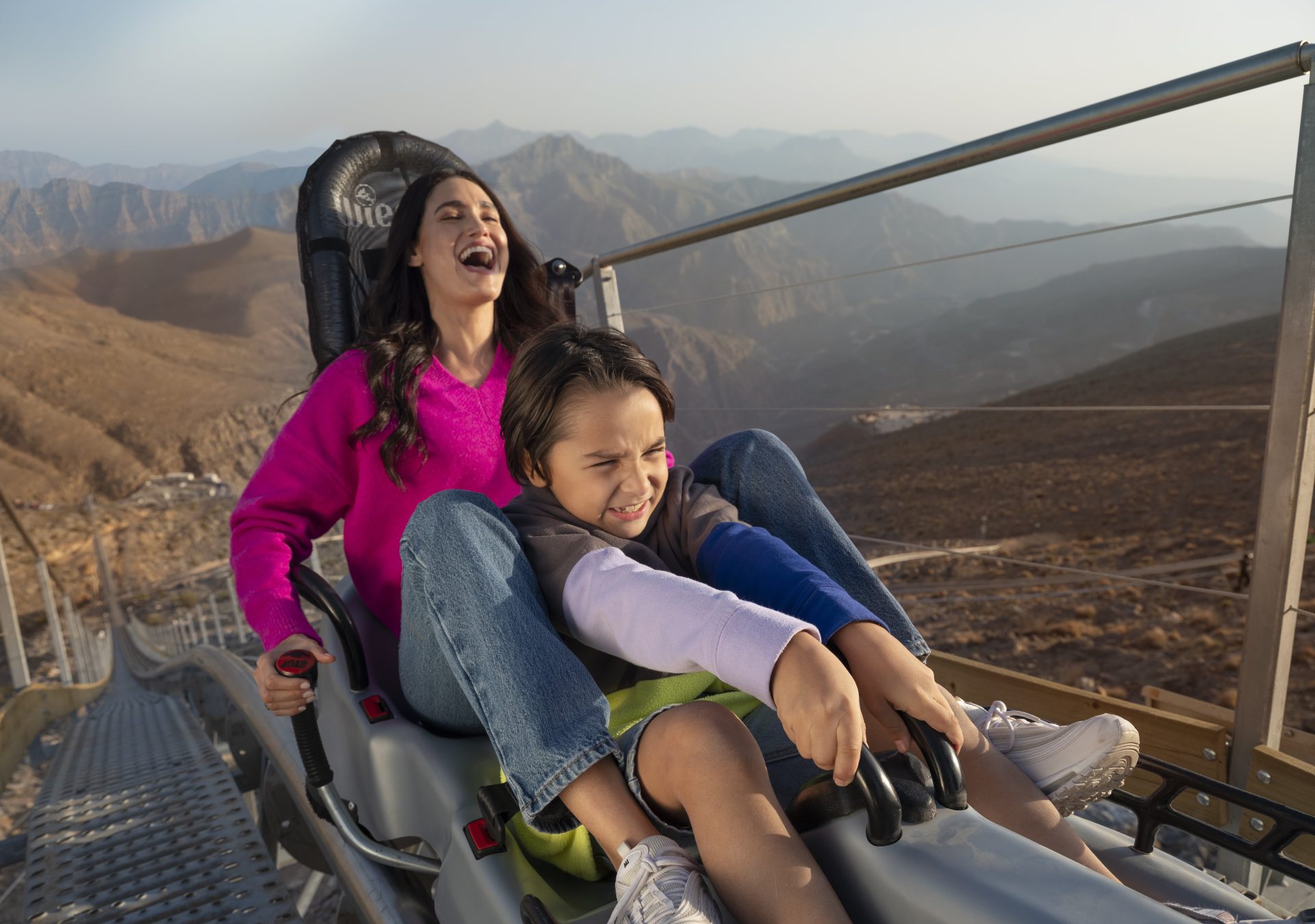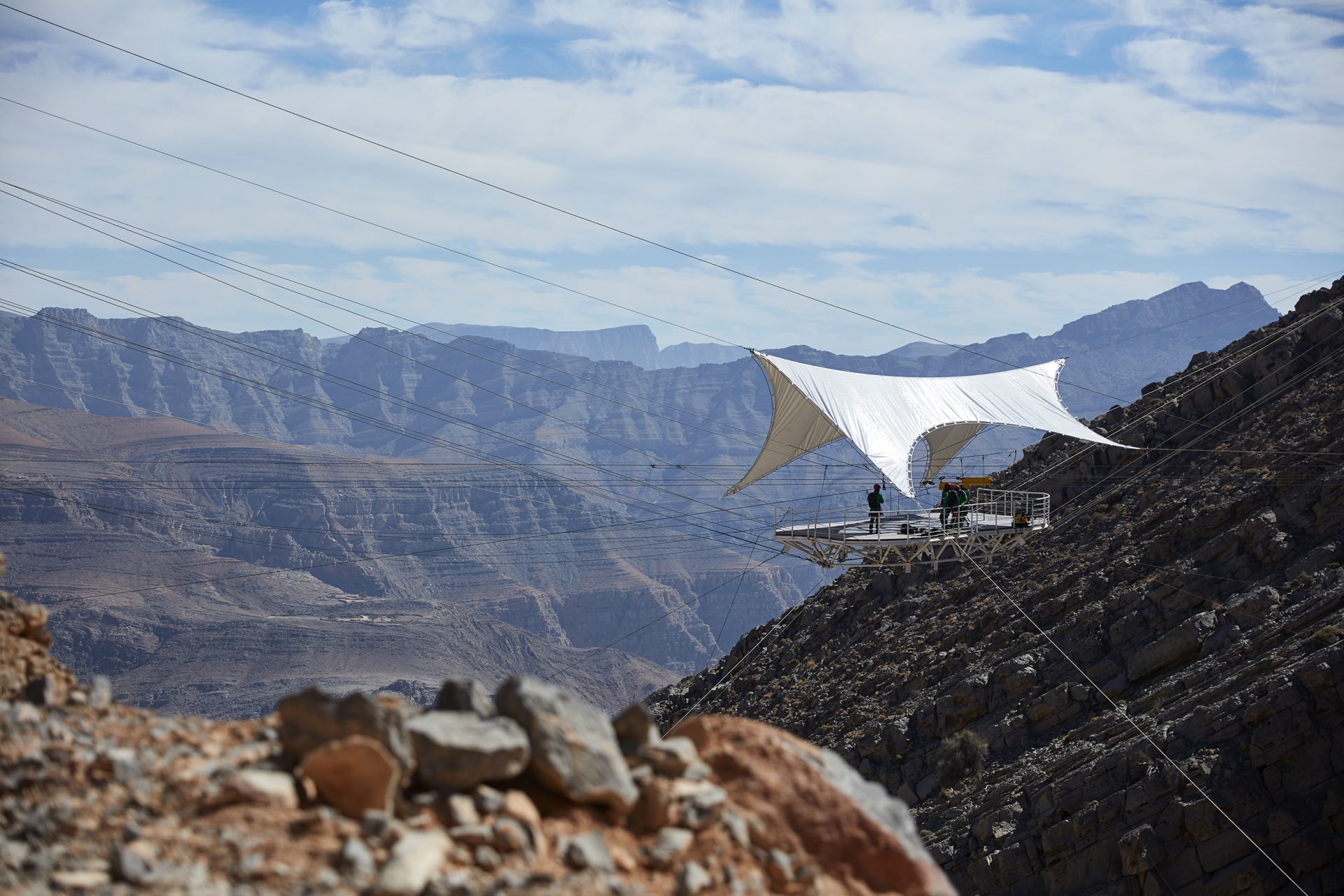 One of the most popular adventure activities in Ras Al Khaimah is hiking. The Emirate boasts the highest peak in the UAE, Jebel Jais, offering spectacular views of the surrounding mountains and coastline. Visitors can take on the challenge of hiking to the summit or enjoy a more leisurely experience by taking the scenic road up to the top. The mountain is also home to the Jais Adventure Park, a gateway to attractions such as Jais Viewing Deck Park, located 1,250 metres above sea level to watch the sun rise and set over the mountain range; Jais Flight, the world's longest zipline where visitors can soar over the Hajar Mountains at speeds of up to 150 kilometers per hour; Jais Sky Tour, a series of six exhilarating ziplines stretching 5km; and Jais Sledder, the region's longest toboggan ride. There is also the Bear Grylls Explorers Camp, the world's first Bear Grylls branded accommodation. The camp offers courses of varying lengths, putting participants face-to-face with some of the toughest terrains in the wilderness. They receive hands-on practical training and extreme survival techniques. The camp also features sixteen recycled and sustainable cabins, the first branded Bear Grylls accommodation in the world, where guests can spend the night and try their hand at mountain biking and rock climbing.
For those who prefer water-based activities, Ras Al Khaimah offers a range of options, including jet-skiing, kayaking, and paddle-boarding. Visitors can also enjoy a relaxing day at one of the many pristine beaches in the Emirate or take a boat tour to explore the coastline. In addition to adventure activities, the Emirate is home to a huge floating water park at the Mövenpick Resort Al Marjan Island.
Tourism
Ras Al Khaimah is like no other. It's the juxtaposition between ancient culture, rugged nature and breathtaking hospitality.
For those looking to experience its unique desert, the Al Wadi Nature Reserve boasts the stunning Ritz Carlton resort, offering private villas with breath-taking views, plus desert treks on camels and horseback riding at Al Wadi Equestrian Center, private archery lessons and a falcon show. Visitors seeking decadent dining under the stars can enjoy Sonara Camp, a luxurious dining and entertainment experience set in the beauty of Al Wadi desert, with herds of Oryx and Gazelles as dinner companions.
Families with a sense of adventure can participate in a range of exciting desert-centric activities. There's dune bashing where you tear across breathtaking landscapes in a 4X4 Landcruiser, dune buggy or on a quad bike, or even sandboarding, to name just a few.
Throughout Ras Al Khaimah's wild desert, visitors will also find various Bedouin-inspired camps where they can learn more about their traditions. Nature lovers will enjoy being in the vast plains of the rolling desert and ride in a caravan of camels, take in the breathtaking scenery and wander through the acacia trees that pepper the landscapes. There are also various festivals held throughout the year that celebrate the Bedouin culture and the history of Ras Al Khaimah. Guests will experience Al Wahabiyya, a traditional stick dance unique to Ras Al Khaimah, belly and tanoura dancers and Taghrouda, an exquisite form of Bedouin poetry and mesmeric chanting.
Meanwhile, explorers looking to get a bird's eye view of Ras Al Khaimah can experience ActionFlight's brand-new hot-air balloon experience featuring awe-inspiring views of the Emirate's breath-taking natural landscapes. Set afloat in the Al Wadi desert, the 450,000 cubic feet balloon stands at a colossal 34.6m. Guests can marvel at the illuminated desert dunes, majestic Hajar mountains and glistening coastline and - if they're lucky - spot special appearances from the indigenous wildlife.
For more information, go to visitrasalkhaimah.com.
Official Ras Al Khaimah Tourism and Visitor information guide - Visit Ras Al Khaimah
Ras Al Khaimah is well-known for its outstanding nature, leisure, adventure and authentic offerings across the entire Emirate.
Planning your trip…
Ras Al Khaimah welcomes you with a blend of world-class hospitality and authentic Emirati history. While it is a liberal destination, you are advised to be culturally aware, especially when visiting our beautiful historical sites and mosques. You should also research your visa requirements in plenty of time before you travel.
The Emirate is easily accessible for regional and international visitors. It is also well served by excellent bus and taxi services, enabling you to reach our diverse areas of natural beauty, our historical treasures and modern resorts. A wide range of maps and brochures are available within hotels and attractions to help you make the most of your visit to Ras Al Khaimah.
Other information
Where to stay
With a wide choice of accommodation, from ultra-luxurious beach resorts managed by some of the most notable names in the business, to family-friendly and affordable hotels – Ras Al Khaimah offers its visitors the best in hospitality. World-class hotels and resorts include properties such as Waldorf Astoria, InterContinental, Hilton, Rixos, Rotana, Ritz-Carlton, Mövenpick, Radisson as well as the world's largest Hampton Resort by Hilton. There is also Banan Beach, a glamping resort located on Al Marjan Island, offering a chilled beach getaway featuring tepee tents located around a central firepit, private chalets, family-friendly attractions and barbeque areas. Additionally, Longbeach Campground brings together traditional camping ethos with luxurious amenities and engaging activities — creating an immersive glamping experience.
The weather
Ras Al Khaimah is a desert climate destination, which means it has hot and dry summers and mild winters. During the summer months, from May to September, temperatures can reach an average of 40-45°C during the day, with high humidity levels. It is important to stay hydrated, wear light and breathable clothing, and avoid prolonged exposure to the sun during midday hours. In the winter months, from November to February, temperatures reach 25°C during the day and can drop to 10°C or below at night. Visitors should pack warm clothing for the evenings and early mornings.
Please note that on Jebel Jais – the UAE's highest mountain peak - temperatures are around 10 degrees lower than sea level, so the ideal spot to escape the summer heat.
Language
Arabic is the official language in Ras Al Khaimah, but English is widely spoken and understood, especially in tourist areas. It is always helpful to learn some basic Arabic phrases to communicate with locals and show respect for their culture.
Top tips if exploring Jebel Jais
Visitors are advised to plan their routes ahead of time, stay on the official trails and always take along a buddy. Prior to setting out, it is encouraged to check the weather, carry sunscreen and a first aid kit, and wear appropriate attire including sturdy boots and hats.
Please note that in respect for the beautiful natural environment, littering is prohibited, as is alcohol, loud music and use of drones. Hikers are also asked to keep their distance from private lands and farms, which are all clearly marked, as well as from wildlife. Designated hiking areas have been dotted with helpful signage. Any hiking enthusiast making a trip to Ras Al Khaimah is encouraged to visit www.visitrasalkhaimah.com or email at outdoors@raktda.com for helpful tips and safety protocols before they travel. These protocols are in place to ensure the highest safety and security for guests to the Emirate.